Series of Webinar organized during 12th May 2020 to 14th May 2020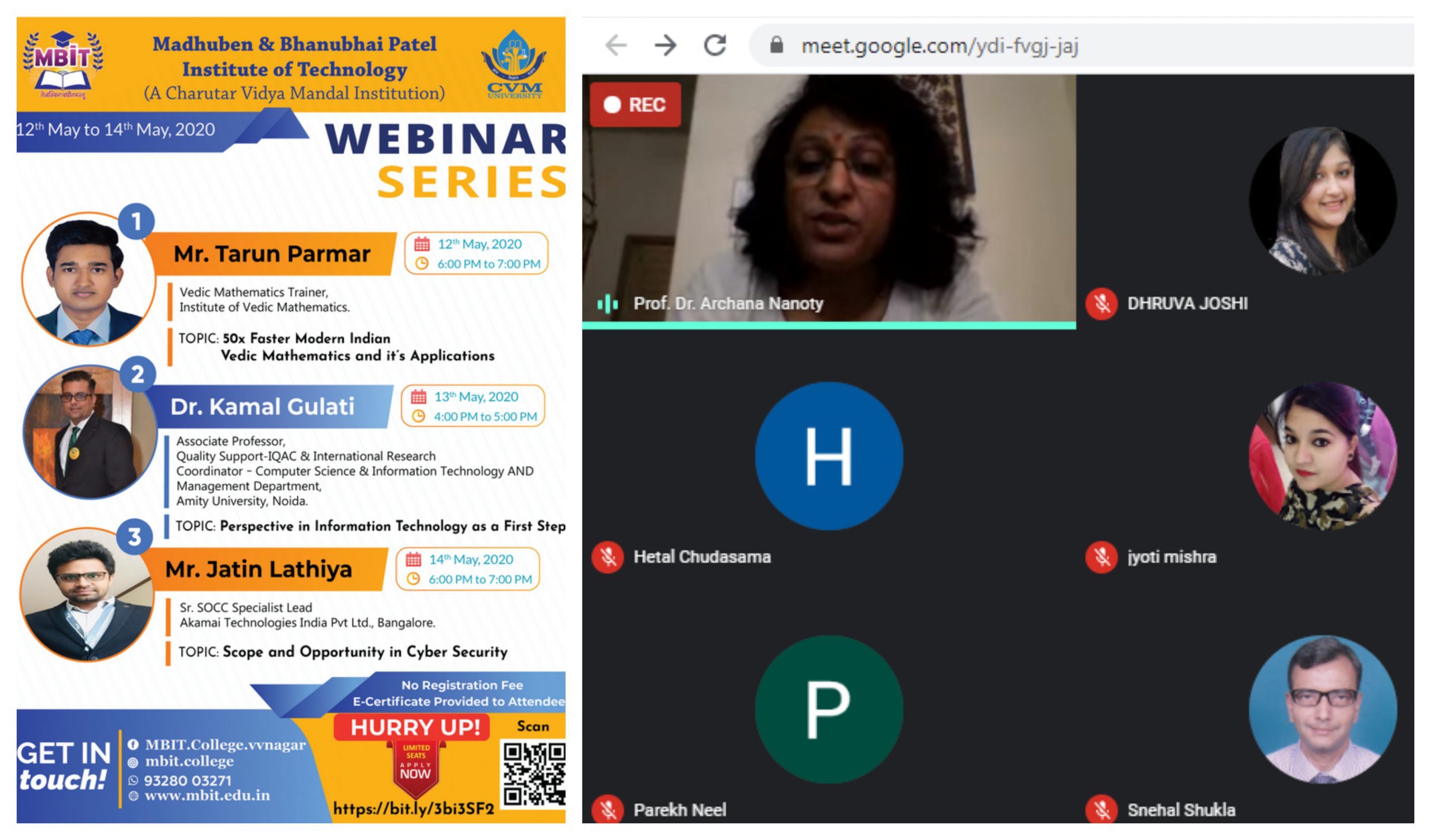 A three days webinar series was organized by Madhuben & Bhanubhai Patel Institute of Technology – CVM University, New Vallabh Vidyanagar, for students and faculty members during 12th to 14th May, 2020. The objective of arranging this webinar series was to make the participants aware of the speedy calculation through Vedic Mathematics, perspectives in Information Technology and scope and opportunities in state of the art technology in Cyber Security.
In the beginning, Prof. Dr. Archana Nanoty, Principal, MBIT addresses the participants and shared her views about the importance of each topic. She discussed about importance of latest technological development considering the present time of COVID-19 pandemic. She also discussed how Information Technology has helped us during this time.
Mr. Tarun Parmar, Institute of Vedic Mathematics, Vadodara, Gujarat conducted session on day 1 i.e. on 12th May 2020 during 06:00 PM to 07:15 pm. He delivered a talk on topic "50x Faster Modern Indian Vedic Mathematics and its Applications". He discussed various short cut methods by which students can easily answer the questions asked in various competitive examinations in just 10 seconds with high accuracy instead of 8-10 minutes. He nicely discussed various short cut techniques such as magic trigonometric tricks, multiplication of two numbers, square roots of a
number (may be real or complex number), date and calendar, and reverse subtractions.
On day 2, 13th May, 2020, Dr. Kamal Gulati, Associate Professor, DOEACC, Ministry of Communications and Information Technology, Amity University, New Delhi, delivered a talk on "Perspective in Information Technology as a first Step", from 04:15 PM to 05:15 PM. In his talk, he discussed the role of Artificial Intelligence in various fields by giving simple examples. He also talked on machine learning, deep learning, robotics and gave introduction to data science by providing real life examples. He nicely discussed on human versus artificial intelligence.
On day 3, 14th May, 2020, Mr. Jatin Lathiya, Sr. SOCC Specialist Lead, Akamai Technologies India Pvt. Ltd., Benglore, spoke on "Scope and Opportunities in Cyber Security", from 06:15 PM to 07:15 pm. He started his talk by giving various examples of cyber-crimes and how to overcome it. He talked on various security concerns with the internet, authentication authorization, various kinds of attacks and distributed denial of service attack, sophisticated Bot attacks in details by explaining various cases. Recent topics like attack vulnerable web application, SQL injection,
trends in network and cyber security. At the end students were made aware about career opportunities in cyber security, tips to get remain secure from cyber fraud.
In this webinar, more than 220 students and faculty members had registered. All the sessions were truly amazing as well as informative. We are happy share that we get overwhelming response from the participants and were requested to arrange more such webinars. At the end, the webinar was concluded by MBIT anthem followed by National Anthem. Read more…