MBIT
Madhuben & Bhanubhai Patel Institute of Technology (MBIT) established in 2009; contributing to society by making proficient Engineers. MBIT epitomizes the commitment of Charutar Vidya Mandal towards academia and society, the institute professes to add the technical quantum competent personnel. The institute has charted out a long-term plan to inculcate its core ideology of social welfare and thus emerge as an exemplary Utopia of academics. To achieve real Woman Empowerment, MBIT got conversion from only women to Co-Education from 2019-20. Mr. Prayasvin B. Patel, Chairman, and Managing Director, Elecon Engineering Company Limited; is the chief patron of this institute and also a president of CVM.
This institute is located in the satellite township christened New Vallabh Vidyanagar. It is a peaceful setup on a lush green belt of the region. The pledge of CVM to bring renaissance through the means of education has brought a cascading flow of colossal donations from and outside India.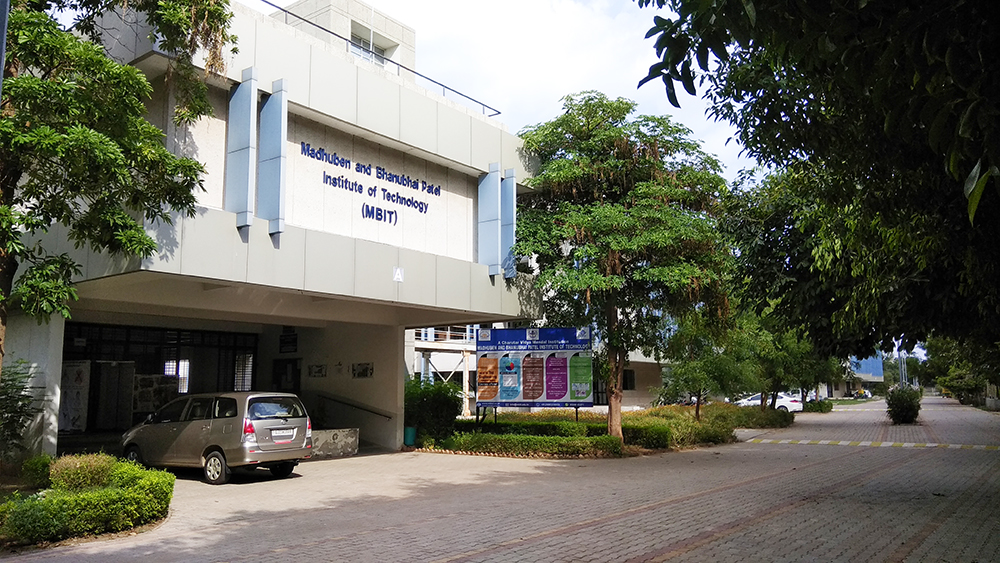 It has Computer labs with 500+ computers and laptops. It has a Wi-Fi facility for students with 48 MBPS 1:1 Internet connectivity with campus-wide Wi-fi which includes Wi-Fi enabled Hostel and FSSI Mess Facility.  It has a reading room in the library with the reprographic facility. It has advanced fire safety and an indigenously designed sanitizing unit for the safety of staff and MBIT students. New Vallabh Vidyanagar is secured campus with 24×7 security and CCTV Surveillance in college, as well as a hostel wherein AC rooms, are available on request. It has an Indoor-Outdoor Sports Facility for students where students can play various games like Table Tennis, Badminton, Volley Ball, Cricket, Basket Ball, Chess, Carrom, etc. It is a residential campus where principals and staff members reside.
MISSION
To prepare competent need-based human-resource and responsible citizens for engineering profession through dissemination of knowledge and development of technical skills and create an environment that fosters the involvement and commitment of all stakeholders for continuous improvement in performance and quality.
VISION
To become benchmark technical institution where learning is a joy, education is for tomorrow, research and development is pace setting and every one is committed to delivering competent human resource for prosperity and well-being of industry, profession and society.
Quality Policy
We are committed to strive for excellence in Engineering Education while ensuring professional ethics and human values.
Objective
To plan and implement Innovative Teaching & Learning Processes
To provide Quality Education matching with futuristic trends in Engineering & Technology
To strive at establishing an effective Quality Management System ensuring continual improvement
To develop the institution into a global institute of learning and research for academic excellence
To train and develop human resources by encouraging faculty to work as a team and to update their knowledge and skills continually to match the needs of Industry.