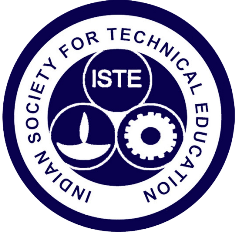 About
The Indian Society for Technical Education (ISTE) is the leading National Professional non-profit making Society for the Technical Education System in our country with the motto of Career Development of Teachers and Personality Development of Students and overall development of our Technical Education System. Being the only national organization of educators in the field of Engineering and Technology, ISTE effectively contributes in various missions of the Union Government. The strength of ISTE is the strong base it has in technical education institutions in the country.  At present, the ISTE has a very large and effective membership base consisting of 124024 Life Members, 5 lakh Student members, 2734 Institutional Members, 1369 Faculty Chapters, 1479 Student Chapters at the institutional level and 17 Sections at the State level.
The major objective of the ISTE is to provide quality training programs to teachers and administrators of technical institutions to update their knowledge and skills in their fields of activity and to assist and contribute to the production and development of top-quality professional engineers and technicians needed by the industry and other organizations.
Details and benefits of ISTE membership can be found from the following website: http://www.isteonline.in/
Life Membership fee : Rs.3000/-(+18%GST) : Rs.3540/
How to become ISTE Member
Any person of Indian origin or a foreign national holding a University Degree or diploma or an equivalent qualification and who is/had been employed on the teaching faculty of a recognized technical institution; or a person having a technical academic qualification working in a Technical/Research Institute or an industry and has interest in technical education in India is eligible for membership.
Distribution of Membership fee
The proportionate share of the Bank interest on the Life Membership fee shall be remitted to the Chapter on receipt of the satisfactory report of Activities and Audited Statement of Accounts.
Membership Benefits
Major Benefits of becoming an ISTE Member is that you are joining an academic fraternity of over 1,24,000 strong professionals and eligible to participate in Chapter, Section and National Level Conferences, Workshops and other activities of your academic interest etc.
Membership cards & Certificates
All the Life Members will be issued plastic laminated photo cards.
Chair Person
Prof. Ankita Chauhan
apchauhan@mbit.edu.in
Executive Council Members
Prof. Dhruva Mistry – Computer Engineering
Prof. Bhavesh Pithadiya – Applied Science and Humanities