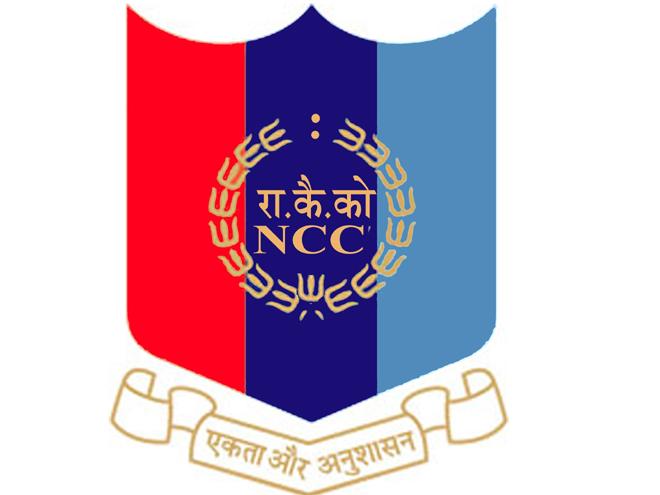 NCC aims at to develop good qualities like good character discipline, patriotism, secularism, selfless service, courage, comradeship, hard work attitude, sportsman spirit, adventure etc among Indian youth to mold them into useful citizen, to create a resource of human youth who are competent to take responsibilities in various walks of life and to create a pool of human youth to absorb into Indian armed forces like Army, Navy, Air force and other paramilitary forces.
| | |
| --- | --- |
| Chairperson | Dr. Sudhir Vegad |
| Program Officer | Prof. Hitesh Thakawani |
| Member | Prof. Jitendra Raulji |
| Member | Prof. Jeet Panchal |
Report of celebration of Independence day – 2023.Click here..
NCC Rank & Felicitation Ceremony – 2023. Click here..
Kargil Vijay Diwas Celebration. Click here..
NCC Motivational Talk under Induction Program-2019. Click here..
NCC cadets had participated in NCC Camp Student List 2017. Click here..
NCC Anual Report of 2017-2018. Click here..
NCC cadets had participated in Joy of Giving Week.Click here..
NCC cadets had participated in NCC Camp Student List 2016.Click here..
NCC cadets had participated in Cleanliness report 2016 at MBICT.Report Click here..
NCC cadets had participated in Tree Plantaion 2016 at MBICT.Report Click here..
NCC cadets had participated in Republic Day Parade 2016 at Shastri maidan.
NCC cadets had participated in Mini Marathon Run on 24th jan 2016 at V.V.Nagar
NCC cadets had participated in Republic Day Parade 2015 at Shashtri maidan
NCC cadets had done Street Play on "BETI BACHAO" at NAPAD village on 14th march 2015.
NCC cadets had participated in YOGA Classes from 1st april 2015 to 15th april 2015.
NCC cadets had participated in celebration of INTERNATIONAL YOGA DAY on 21th june 2015.
NCC cadets had participated in Independent Day Parade 2015 at Shashtri maidan
NCC Expert Talk held on 9th September 2015 at MBICT
Ncc cadets had Participated in Anti Alcohol Rally on 2nd October 2015 at V.V.Nagar
NCC cadets had participated in Run for Unity on 31st October 2015
Achievement of 2019-2020
I, Corporal Niti Goel of MBIT College represented Gujarat state in the republic day parade camp of 2020.
It was September 2019 when the training and selection camps for RDC 2020 started at the battalion level. It's a series of 9 consecutive camps lasting for a duration of complete 6 months in which cadets are supposed to get selected in one camp to reach to the next camp and like viz after getting selected till the last camp, cadets finally make it to RDC Delhi. With cut throat competition and rigorous training of about 50 days, I qualified to fight for the selection at group level. I got selected at the group level thereby getting an entry to what one can call the most difficult stage, the PRE RDC camps. There are 3 PRE RDC camps and one launching camp in November-December at the group level where in selected cadets from all five groups of Gujarat fight to secure a position in the contingent of 111 cadets. My dream came true when I got my name in the team of 111. I got selected for GUARD OF HONOUR from Gujarat directorate contingent. The 111 cadets received the entire kitting in the launching camp and we started for Delhi on 30th December wearing the Gujarat tracksuit with pride. We reached the DG NCC Delhi cantonment and were given a warm welcome.Without any delay, the competitions between 17 directorates started in Delhi right from the very first day.

I was selected in RAJPATH, senior wing girls contingent, army, of Gujarat directorate. Also, I am in the top 14 cadets of Gujarat selected to fight for 7 positions for the youth exchange program which further gives an opportunity to cadets to represent India in one out of listed 11 foreign countries. I was a part of the Republic day parade held on 26th of January on RAJPATH consisting of 144 NCC girl cadets selected from all over India for the Republic day camp of 2020. Marching on RAJPATH that too in the front line of the contingent is a dream come true and a lifetime achievement that I'll cherish throughout my NCC journey and even after.
I got an opportunity to see the amazing Army day parade at the Cariappa parade ground on 15th January. Also, all cadets were taken for Delhi darshan on one decided day. There are at home visits in which I got to visit our honourable president Shree Ram Nath Kovind's home at Rashtrapati Bhavan. Apart from at home visits, I got to meet the Army chief, Navy chief, Air chief, Vice president of India, chief minister of Delhi and Defence minister of India at the tea parties.
5 entire months of waking up at 4ams', getting ready in minutes to make it to the ground before the final whistle to avoid punishment, circling the ground 'n' number of times with the fauji josh, getting smeared with dust from head to toe, dozing off with rifles in hand in army trucks/buses while going for RAJPATH practises at 1am in the morning, crawling on elbows, running with rifle on our shoulders, standing for hours in the roll call, practicing for rifle drill the whole day and then studying for best cadet/yep competition even though your energy level is at its lowest, but your josh isn't; RDC, has been a journey so rich with experiences and lessons that I can hardly put it into words.
The aim of the Republic Day Camp is to enhance the quality of self-confidence and self-discipline of cadets, deepen their value systems and provide an exposure to the rich culture and traditions of our nation. It also prepares and motivates the youth to join the armed forces of India. Projection of cherished ideals and capabilities of the cadets of the NCC is intrinsic.
The camp portrays a reflection of "Mini India".
I shall always to be grateful to NCC for giving me this opportunity.
Jai hind.
Achievement of 2017-2018
Our NCC cadets Shivani Patel and Krishna Patel students of 6thsemester, computer engineering got selected as best cadet of V V Nagar. They both attended Republic day Camp 2018 at New Delhi.
Shivani Patel played a leading role in cultural activities like group song, ballet, national integration awareness presentation, group dance and line area.
Her one of the most prestigious achievement was governor's medallion.
Krishna Patel was part of Raj path contingent and she marched at Raj path on Republic day. She also played her leading role in flag area as well as line area.
Achievements of 2016-2017
One of our cadet Honey Patel(130630131055) got selected as best cadet of V.V Nagar and 2nd best cadet of Gujarat. She had attended REPUBLIC DAY CAMP 2016 DELHI and had given all India guard of honor to 9 VIPs.
Following is a list of all india Guard of honour was given to VIPs and chief of army,Navy and Air force:
1)DG NCC :Lt. Gen. A. Chakravarty VSM
2)Vice President : Shri Hamid Ansari
3)CM of Delhi: Shri Arvind kejriwal
4)Chief of Naval Staff: Admiral R.K.Dhowan PVSM,AVSM,YSM,ADC
5)Chief of Air Staff: Air Chief Marshal Arup Raha PVSM,AVSM,VM,ACD
6)Chief of Army Staff: General Dalbir Singh Suhag                                                        PVSM,UYSM,AVSM,VSM,ADC
7)Raksha Rajya Mantri: Shri Rao Indrajit Singh
8)Raksha Mantri : Shri Manohar Parrikar
9)Prime Minister: Shri Narendra Modi visited on PM's Rally
She is also Parade Commander of V.V Nagar Contingent and also having leading roles in cultural activities like Group song, ballet, National integration awareness presentation, flag area and line area.