Cognition a Series of Webinars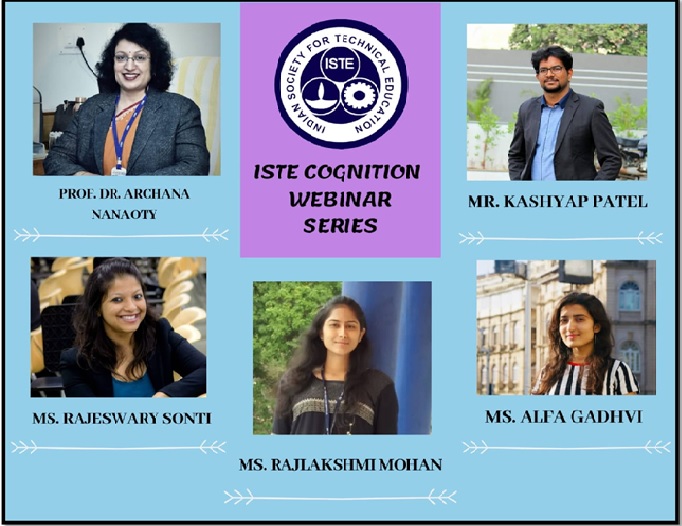 During this condition of lockdown all over the world, where people are finding themselves blocked and unable to explore the things that they want to; So to beat the lockdown boredom and achieve some knowledge from great Experts as speakers is the best thing to be done.
To start that ,ISTE Student Chapter at MBIT organized an event namely "Cognition- A Series of Webinars" for the students and faculties of different colleges under CVM. A schedule was prepared of a week in which all these sessions were conducted through the online platform "Cisco Web Ex".
There were six speakers namely Mr. Sachinn Jani sir, Ms. Rajeshwary Soni, Mr. Kashyap Patel, Ms. Rajalakshmi Mohan, Ms. Alfa Gadhvi, Prof. Dr. Archana Nanoty who enlightened the webinars with their knowledge.
They conducted webinars on various topics like Cyber Security, Big Data(IOT, AI, ML), Introduction to cloud computing, Turtle in Python, Coding is not Everything and Education for Life(not only for degree).
The sessions were useful for 1st, 2nd, 3rd and 4th year students. Average 80 peoples attended this webinar including students and faculties of various colleges. All the participants of this event were given E-Certificates for their participation. This Event "Cognition- A Series of webinars" were successfully organised by Riddhi Patel (ISTE Student Chapter Chairperson) & team ISTE under the guidance of Prof. Sunayana Domadia and Prof. Pooja Bhatt. Read more…