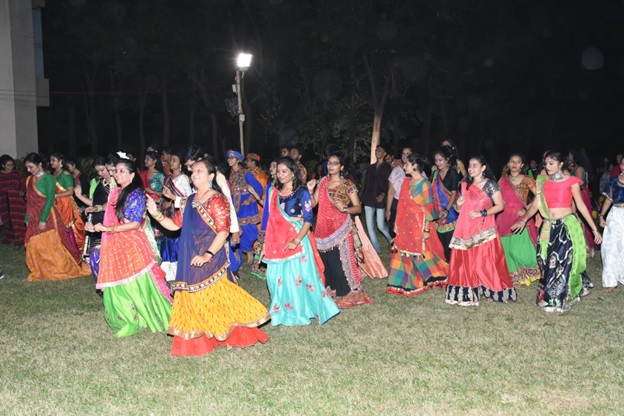 Organized Date: 12th October 2019
Beneficiary: Students & Staff,
Raas or Dandiya Raas is the traditional folk dance form of Gujarat. Along with Garba, it is the featured dance of Navratri evenings in Western India. Garba is performed after Aarti (worshipping ritual) as devotional performances in the honor of the Goddess Durga, while Dandiya is performed after it as a part of merriment.
Garba was celbeated on Saturday evening, 12th October 2019 with great enthusiasm. The function continued from 6:30pm to 9:00 pm. Traditional dress code "ghaghra choli" and kediya was followed by all the students. This event brought awareness among the students about the traditional customs while enjoying the garba night.
The whole celebration was full of enthusiasm, fun and franticness. The night started with the "Aarti" which was done by Our principal madam Prof. Dr. Archana Nanoty & accompanied by our respected chief guest Hon. secretary B.P.PATEL & Mrs. Asha Dalal founder chair person of Jagrut Mahila Sangathan, anand.
The celebration ended up with the award ceremony and girls were awarded for their awesome performances. They were also entitled for their talent and looks.
For students
The Best dress Award :   Male– Patel Rut, Female-Patel Priyaka
The Best Dance Award : Male-Rushik Malar, Female-Patel Priya
Best group costumes:      Margish Sangani
For staff
Best dress & costume: Male-ATMIYA Patel, Female-Dipti Mathpal