IIT Mumbai - Remote Center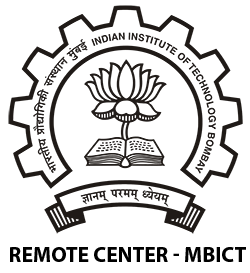 MBIT remote Center acts as the intermediary between IIT Bombay and the participating teachers during the workshop. RC is usually a reputed engineering college, with high academic standards, excellent infrastructure and good faculty with expertise and experience of handling workshop subjects, to guide the participants in Lab work.
MBIT Remote Center
MBIT RC is a place from where the participants/people can interact with the instructor (faculty at IIT) who is conducting the course or delivering a lecture from IIT Bombay. The live lectures are transmitted at Remote Centers using A-VIEW software.
The Remote Center (RC) is usually a reputed engineering college with good facility and infrastructure.
It acts as a host for the virtual classroom environment created by A-VIEW.
The participant can attend the workshop in a RC close to his/her place. The RC minimizes the logistics of travel, boarding and lodging.
Remote Center Details
Remote Center ID
1057
Classroom Capacity
140
Lab Capacity
80 Seat
Remote Center Coordinator
Prof. Ashwini Kumar Jha,
Assistant Professor – Computer Engineering
Why MBIT as a Remote Center?
MBIT edge over others, such as:
It is centrally located with a number of engineering colleges in the area
It has well equipped classroom and labs with broadband internet connection, for a minimum of 80 participants.
Backup of internet at venue if main internet connectivity fails due to any issue.
The classroom and labs are equipped with overhead projector with minimum 12×9 feet screen.
The venue on where workshops are conducted is equipped with professional audio system.
UPS to sustain Power if main line fails due to any issue.
Lodging and boarding facilities for participants, either in hostel or in a place near the campus*.
Faculty Center Coordinators are appointed at each RC, to handle the technology infrastructure and other operational logistics i.e taking care of common logistics arrangements such as classroom, audio-visual equipment, and arrangements for stay and food for participating teachers. Additionally, each subject specific workshop will require another faculty member to be nominated as the Workshop Coordinator for that subject while coordinator workshop. The workshop coordinator will be responsible for liaison with IIT Bombay faculty for that subject, and will conduct the lab and tutorial sessions at that RC. Some other nominations will also be required for the smooth functioning of the workshop.
Events
| | | | |
| --- | --- | --- | --- |
| Sr. No | Workshop | Workshop For | Date |
| 1. | C And C++ Workshop | Teachers | 29 Feb To 29 Feb 2020 |
| 2. | C And C++ Workshop | Coordinators | 15 Feb 2020 |
| 3. | Moodle – Learning Management System | Coordinators | 01 Mar 2019 |
| 4. | Moodle – Learning Management System | Teachers | 15 Mar 2019 |
| 5. | Pedagogy For Online And Blended Teaching-Learning | Teachers | 03 May To 30 May 2018 |
| 6. | Foundation Program In ICT For Education | Teachers | 08 Mar To 12 Apr 2018 |
| 7. | Pedagogy For Online And Blended Teaching-Learning | Teachers | 14 Sep To 12 Oct 2017 |
| 8. | Foundation Program In ICT For Education | Teachers | 03 Aug To 12 Oct 2017 |
| 9. | Electric Power System | Teachers | 10 July  To 15 July , 2017 |
| 10. | Electric Power System | Coordinators | 1 May To 5 May 2017 |
| 11. | CMOS, Mixed Signal and Radio Frequency VLSI Design" under | Teachers | 30 January To 4 February 2017 |
| 12. | CMOS, Mixed Signal and Radio Frequency VLSI Design" under | Coordinators | 19 September To 23 September, 2016 |
| 13. | Use Of ICT In Education For Online And Blended Learning | Teachers | 02 May To 10 Jul 2016 |
| | | | |
| --- | --- | --- | --- |
| Sr. No | Workshop | Workshop For | Date |
| 1. | Introduction to Research Methodologies | Coordinators | 11 Jun  To 15 Jun 2012 |
| 2. | Introduction to Research Methodologies | Teachers | 25 Jun To 04 Jul 2012 |
| 3. | Aakash For Education | Teachers | 10 Nov To 11 Nov 2012 |
| 4. | Research Methods In Educational Technology | Teachers | 02 Feb To 09 Jan 2013 |
| 5. | Aakash Android Application Programming | Students | 23 Feb To 03 Mar 2013 |
| 6. | Database Management Systems | Coordinators | 06 May To 10 May 2013 |
| 7. | Database Management Systems | Teachers | 21 May To 31 May 2013 |
| 8. | Orientation Workshop For Aakash | Coordinators & Teachers | 25 Oct To 05 Nov 2012 |
| 9. | Computer Programming | Teachers | 16 Jun To 21 Jun 2014 |
| 10. | Cyber Security | Coordinators | 17 May To 21 May 2014 |
| 11. | Computer Networking | Coordinators | 05 May To 09 May 2014 |
| 12. | Computer Networking | Teachers | 30 Jun To 05 Jul 2014 |
| 13. | Cyber Security | Teachers | 10 Jul To 20 Jul 2014 |
| 14. | Computer Programming | Coordinators | 21 Apr To 26 Apr 2014 |
| 15. | Pedagogy For Effective Use Of ICT In Engineering | Coordinators | 25 Nov  To 25 Nov 2014 |
| 16. | Pedagogy For Effective Use Of ICT In Engineering | Teachers | 05 Jan To 21 Jan 2015 |