Workshop on 'Flutter for Beginners'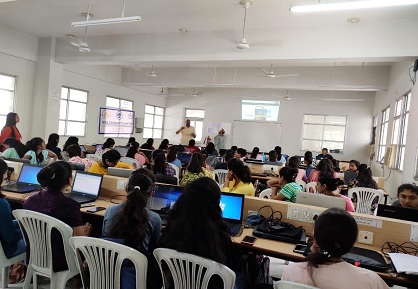 On 16th September 2019,A one day workshop on "Flutter for Beginners" was organized under ISTE student chapter MBIT for 5th and 7th semester students. This workshop was initiated by faculty representative Prof. Jayna Donga and Prof. Pooja Bhatt, actively coordinated by ISTE student coordinators and reached to great success under kind guidance and financial support of our beloved principal Prof.Dr.Archana Nanoty. This event was conducted as a part of Engineer's Day which was on 15th of September. Around 45 students participated in this Workshop.
Three Experts were called for this workshop from SerpentCs Company. Our first expert was Mr. Aliasgar Vadivala. He did his graduation in MCA. He had 2.2 years of experience and currently he is working as Jr. Android Developer in SerpentCs Company. Our second expert was Mr. Mustafa Lokhandwala. He did his graduation in M.SC.IT. He had 2.4 years of experience and currently he is also working as Jr. Android Developer in this company. The main job role of these experts was developing apps using Odoo database and its API's.
Our third expert was Mr. Mustafa Rahi. He has been involved in software sales, selling of ERP etc. He also worked at Credencys as Sr. Marketing Manager to offer wow experience to clients, also creating valuable marketing collateral in the area of Augmented Reality solution, Virtual Reality, IoT solutions, enterprise web app solutions, etc.
The workshop included two sessions. In the first session the experts gave introduction about them and the company and also gave introduction about Flutter and its importance. Then they taught about the installation part of the flutter before the first session ends. In the second session the experts showed how to make a small Flutter project by using all the widgets. All the participants were performing the same in their respective laptops. At the end the participants were given a small task as an end activity of the session in which the participants had to make a small application using Flutter. Two groups successfully completed the task within time limit. They were appreciated by chocolates by the experts.
Thus, this event was a great fun and brought enthusiasm in the students to learn new things and implement them in real applications.