MBIT Organized – Imperium'18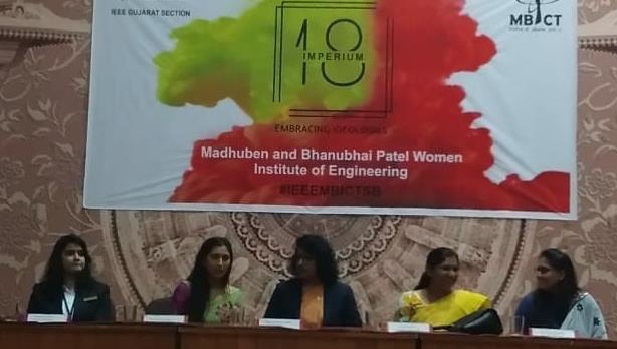 Organized Date: 11th Jan, 2019
Beneficiary: All Students of MBIT,
Imperium is a one day national event organised by IEEE MBICT Student Branch volunteers. The word Imperium means Power. This event combined inspiring people from different fields who are known best for what they do. It was a day full of great inspiring talks as well as interaction and networking participation. A mix of ideas from different backgrounds, their stories, and motivation for students to approach big dreams.
Vision of the event:
Provide an awareness to students about various challenges and opportunities To deliver a positive pool of knowledge on Empowerment.
The Mission of the Event:
Gain insight into topics from different fields presented by professionals as speakers, To let the youth meet the leaders and creators to explore their visions and opportunities in correct direction.
Audience:
Student members from IEEE Gujarat Section.
College students from Gujarat.
College students from nearby states.
The inaugural started at 10:00 am. Prof. Dr. Archana Nanoty, the principal of MBICT shared her few words of wisdom. Prof Dr. Archana Nanoty, the principal of MBICT College welcomed the audience and explained the meaning of never giving up on purpose of life through the example of a pencil. Her motivating and energetic words gave a great start to the event.
This was followed by Prof. Shital Gondaliya, Branch Counsellor-IEEE MBICT SB talking about the student branch and its achievements. The Guest of honor Prof. Anjali Diwan who is the student activity chair and women in engineering Co-chair of IEEE Gujarat section shared that how this college is close as it is the homecoming for her and she congratulated the team for putting up this event. Ms. Hemangi Sharma, Chairperson- IEEE MBICT SB welcomed the crowed on behalf of the organizing committee.
After all the felicitations and lighting of the lamp by the dignitaries, IMPERIUM, embracing
ideologies, was declared open.
Schedule/Agenda:
| Morning | |
| --- | --- |
| 8:30 AM – 10:00 AM | Registration and Breakfast |
| 10:00 AM – 10:45 AM | Inaugural |
| 10:45 AM – 11:30 AM | Laxmi Agrawal |
| 11:30 AM – 12:15 PM | Swayam Ranjan |
| 12:15 PM – 12:45 PM | Chaitanya Lila Das |
| Noon | |
| 12:45 PM – 2:00 PM | Lunch |
| Afternoon | |
| 2:00 PM – 2:45 PM | Prasanth Mohan |
| 2:45 PM – 3:30 PM | Rajendran Dandapani |
| 3:30 PM – 4:15 PM | Sandeep Nagarkar |
| Evening | |
| 4:15 PM onwards | High tea and Networking |