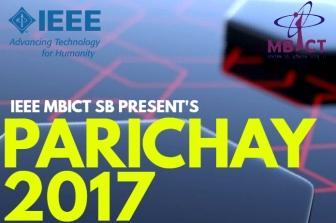 Parichay is an annual membership drive conducted for first-year students and all students interested to become future IEEE members.
Parichay'17 was a welcome event for the new fresh batch of 2017 to let them open up and explore the knowledge of IEEE and its benefits. It was coordinated by Tanaya Akalwadi, Nirmita Gandhi and Hitaxi Patel of MBICT IEEE SB. Parichay'17 begin with a seminar focused on IEEE and its benefits followed by fun technical events for first-year students.
The seminar was led by Mr. Jaydeep Shah and Mr. Jay Merjawho were our invited speaker's for the talk. The seminar ended with a questionnaire session were all doubts were cleared.
The seminar was followed by the following rounds:
Quizard: Questions from all fields, be it technical or non-technical, all interest levels were taken care of in this round. A welcome aptitude for the new batch to give them a fresh start.The time slot of this round was 01:00-02:00pm on 23rd September.
Dramebaaz Engineer: A Tech dramatics round performed in groups.
Mind Hunter: Hunting for places within the campus using clues and QR codes.
Total participation: 129
Venue- MBICT, New Vallabh Vidyanagar, Anand, Gujarat.
Day: 23rd September, 2017
Winner: Mansi Bhagat
Runner Up: Hemani Patel
Coordinators: Tanaya Akalwadi, Nirmita Gandhi and Hitaxi Patel
Volunteers:Vatsala Yadav, Mansi Patel, Khushboo Soni, Kavisha Shah, Nidhi Bhrambhatt, Priyancy Patel, Glory Christian, Vrunda Patel, Ria Chawda, Priyal Desai, Jahanvi Dudhat, Shefali Jha, Vishva Prajapati, Stellin Christian, Ritu Kalsy.
IEEE MBICT SB